Nucleic Acid Immunity Meeting 2023
Time: October 26-28, 2023
Venue: Deutsches Hygiene-Museum, Lingnerplatz 1, 01069 Dresden
In-person meeting. Participants limited to 200.

Keynote Speakers
Jean-Laurent Casanova, The Rockefeller University, St. Giles Laboratory of Human Genetics of Infectious Diseases, New York (USA)
Sun Hur, Harvard Medical School, Department of Biological Chemistry and Molecular Pharmacology, Boston (USA)

Confirmed speakers
Simon Alberti, Biotechnology Center of the TU, Dresden (Germany)
Glen Barber, University of Miami Miller School of Medicine, Department of Cell Biology, Miami (USA)
Zhijian 'James' Chen, UT Southwestern, Dallas (USA)
Yanick Crow, University of Edinburgh, MRC Human Genetics Unit, Edinburgh (UK)
Michaela Gack, Cleveland Clinic Florida Research and Innovation Center, Port St. Lucie (USA)

Moritz Gaidt, Vienna BioCenter Research, Institute of Molecular Pathology, Vienna (Austria)
Raphaela Goldbach-Mansky, National Institute of Allergy and Infectious Diseases, Bethesda (USA)
Claudia Günther, University Hospital Carl Gustav Carus, Dresden (Germany)
Gunther Hartmann, Institute of Clinical Chemistry and Clinical Pharmacology, Bonn (Germany)
Veit Hornung, Gene Center, Munich (Germany)
Jean Luc Imler, University of Strasbourg, Institute of Molecular and Cell Biology, Strasbourg (France)
Min Ae Lee-Kirsch, University Hospital Carl Gustav Carus, Dresden (Germany)
Paul Lehner, University of Cambridge, Institute of Therapeutic Immunology & Infectious Disease, Cambridge (UK)
Andreas Linkermann, University Hospital Carl Gustav Carus, Dresden (Germany)
Olivia Majer, Max Planck, Institute for Infection Biology, Berlin (Germany)
Nicolas Manel, Institut Curie, Paris (France)
Katrin Paeschke, University Hospital, Bonn (Germany)
Søren Riis Paludan, Aarhus University, Department of Biomedicine, Aarhus (Denmark)
Virginia Pascual, Cornell University, New York (USA)
Jan Rehwinkel, University of Oxford, Medical Sciences Division, Oxford (UK)
Toshiyuki Shimizu, University of Tokyo, Tokyo (Japan)
Leonie Unterholzner, Lancaster University, Lancaster (UK)
Nan Yan, University of Texas Southwestern Medical Center, Department of Immunology and Microbiology, Dallas (USA)
Christian Zierhut, The Institute of Cancer Research, Team of Genome Stability and Innate Immunity, London (UK)
Further speakers will be announced soon.
Abstract submission
The conference program includes two poster sessions and short talks selected from the submitted abstracts. Further information regarding abstract submission will follow soon.
Poster prizes will be awarded.
Program
The conference program will begin on Thursday morning of October 26th and end around noon on Saturday, October 28th. We will provide a preliminary program as soon as possible.
Registration will open soon!
Organizing Committee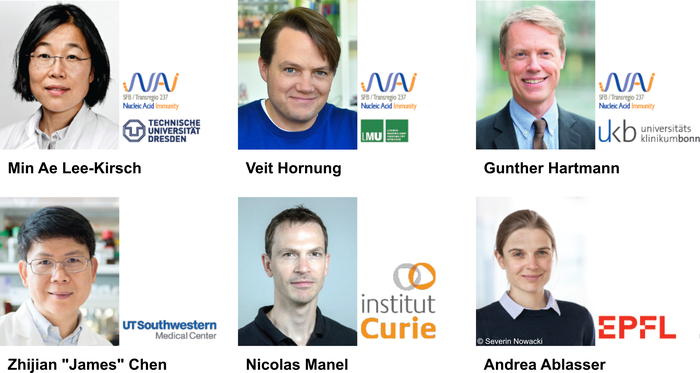 Conference Coordination: Bianca Weißbach (bianca.weissbach@ukdd.de)
Conference Support: German Research Foundation (DFG) - SFB/Transregio 237